Collating machine – Demonstration delivered to a mail order company
on January 17, 2022
Today we would like to introduce a demonstration of a collating machine for a mail order company that was held some days ago.
Both the mail order company and the logistics company, who is contracted and runs the collating work, came to Pressio office with their actual ads.
These two companies pack together some related ads and catalogs with purchased products and send them to the customers. By doing so, they could promote cross-selling and customers may buy products related to the ones they've purchased.
Previously, leaflets and ads were just simple ones, but recently you see more of them folded in three and even catalogs are popular to make them more eye-catching.
Under such trend changes, there are more ads that could not be collated by the conventional collating machine and as a result, we find more companies interested to Pressio collating machine.
---
Also, the recent advertising trend in the mail order industry is "selecting leaflets according to each customer attribute."
A mail order company, who manages attribute information of the customers, is achieving a higher cross-selling effect by selecting the ads to be bundled by "customers" instead of selecting them by product.
Pressio collating machine can also be equipped with such a "function to collate ads while selecting them based on the content preset by the advertiser" as an optional features.
Click this link for the blog that introduces the details.
Let's get back to the topic.
Below is the photo of the paper samples brought to us and demonstrated on the Pressio collating machine.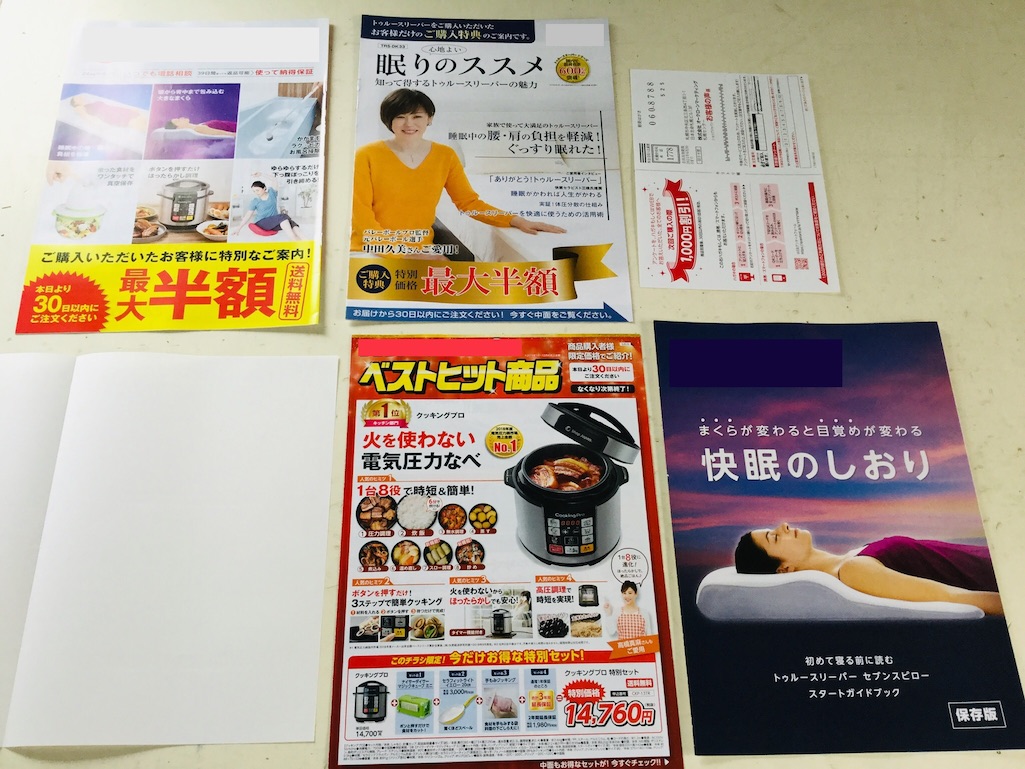 < Information of the samples >
-There are 5 different types of samples: catalogs, leaflets, postcards, invoices, and delivery notes for mail order.
-The two types of catalogs are each 8-page catalog and 12-page catalog.
-The majority of the samples are A4 size (210mm x 297mm) and postcards are A5 size (148mm x 210mm) .
-The invoice and delivery note are folded in half and they are used to wrap the other ads, meaning they serve as "folding paper."
-Can collate about 1,500 to 2,000 sets per hour on average.
< Machine used for demonstration >
-2500TZ-SC
-Collating speed performance is about 6,000 sets per hour.
< Results >
-Successful
-No paper jams, double feeding, or scratches on the sample surface.
We will show you the video of the demonstration which we recorded.
Due to customer's request, it is collating and lifting up in units of 10 sets.
As you can see on the video, it is very time efficient because the machine does not stop and continues to operate while it is lifting up the sets.
For this demonstration, we've used the stand-alone machine. But we could always integrate Pressio collating machine to your existing large machinery line.
(Can control the ON/OFF of collating operation by the instruction sent from the host system that controls the existing large line.)
Therefore you can install and use effectively Pressio collating machine even when you want to add the collating function to your existing machinery line.
---
< YouTube videos of Pressio  collator >
If you're interested in our products, please please feel free to contact us.
Refer to our products on this website.
Thanks.