Advantages and disadvantages compared to conventional collators
on June 4, 2021
We show advantages and disadvantages of Pressio collator compared to other conventional collator. Please see below.
< Advantages >
---
#1 : Adaptable to various samples, especially to folded shapes and multiple papers
The samples which conventional collators cannot work well are no issue with Pressio collator.
Particularly lots of customers make use of Pressio collator for catalog, leaflet, pamphlet, multiple flyer, letter fold sample etc.
Of course, ordinary samples such as NCR, calendar, post card are also well handled with Pressio collator.
Also the available sample size is as follows,
Minimum size: 100 × 148mm / 3.9 × 5.8 inch
Maximum size : 340 × 450mm / 13.3 × 17.7 inch
Please refer to the YouTube video below.
---
#2 : High speed collating
The collating speed is as follows,
Average: 5,700 sets per hour
tMaximum: 8,400 sets per hour
We often suggest the average speed because there are few errors, and in that way your operators can add (refill) your samples on tray smoothly.
You can reduce the collating lead-time really dramatically as you don't need to stop the machine for refilling papers on the tray.
Please refer to the YouTube video below.
---
#4 : Both front and rear side trays | Vertical type ( Saves your space )
Pressio collator doesn't take so much space as the product has the trays on the both side, front and rear, and it's a vertical type.
You can save your space.
---
#5 : Able to start operating easily and quickly
You can start operating Pressio collator immediately after the switch is ON.
Also, if the setting is not changed, you do not need to adjust collating conditions so strictly.
(Of course even elderly people or students can adjust the collating conditions, it is that easy.)
---
#6 : Easy maintenance
There are only 3 consumption parts with Pressio collator, and the maintenance is just to replace the consumption parts.
There are very few troubles except for the consumption parts.
---
#7 : Able to move the machine
When you don't use Pressio collator, you are able to move the machine to your warehouse so easily.
Even one person can handle it easily.
You can make the best use of your space.
---
#8 : Folding paper function
Pressio collator can fold one main paper and insert the other all samples set into the folded main paper.
The red circle: folded main paper.
Available size of a folding paper:
A4 size = 210 × 297mm (8.3 × 11.7 inch)
A3 size = 297 × 420mm (11.7 × 16.5 inch)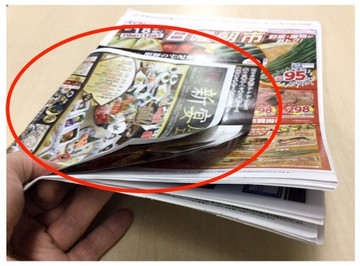 < Disadvantage >
---
#1 : Standalone machine (only collating function)
Pressio collator is standalone type, so it doesn't have any other functions such as stapling, gluing etc.
It's more focused on adapting to various applications and to heavy duty collating jobs.
---
#2 : Not including movable catch tray (which can separate each collated set)
Unfortunately, Pressio collator doesn't have "movable catch tray ", so the each collated sample set will just pile up on the catch tray.Because we place importance more in the collating speed, we have not integrated this function to Pressio collator.However, we understand that some customers require this function, so we often suggest following solution instead.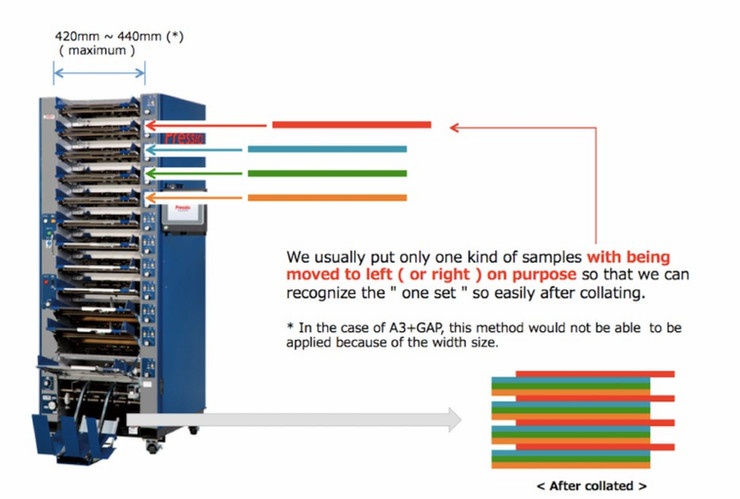 *Remark :
If the width size of your sample is around 440mm (17.3 inch), this solution cannot be used, because the sample cannot be slide left (or right) on purpose.
Or if you can use the folding function, the each collated sample set will be separated.
Please refer to the following YouTube video.
---
Consider Pressio collator if your machine or conventional machines cannot work properly for your sample.
Consider other brand machines if you need an all-in-one-line machine including collating ,stapling or gluing, and cutting.
Also, if you could share with us about the details of your samples, we would be able to conduct an experiment with your actual sample or other similar sample in our factory, and would report back to you.
If you're interested in our products, please please feel free to contact us.
Refer to our products on this website.
Thanks.